Chiwi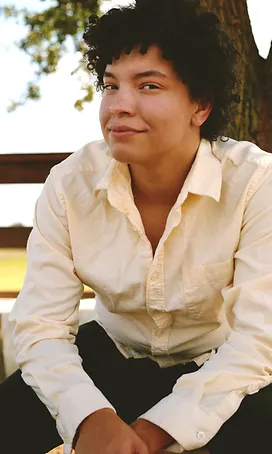 About This Artist
Basil was born in Modesto, CA in 2000 with little more than a box of crayons and the baldest head you've ever seen on a baby. In less than four years, they were already making up their own dinosaurs and making stories for their stuffed horses. Life was simpler then.
​
In high school they decided that the only thing that could ever make them happy was working in art. When the opportunity to go to Savannah College of Art and Design came in the summer after Junior year, they never looked back. It was one week later that they fell in love and decided to move across the country to Savannah, GA to get a degree in illustration. All was going to plan until March 2020…
​
After moving back to CA to have more support from family and friends, the ultimatum came: finish school online, or move back whenever things were looking better, but risk having to adhere to the whims of this mystery illness that never seemed to go away.
​​
The prior choice seemed to make more sense, but meant having to leave illustration and finish their degree in graphic design. It took some time to be able to appreciate all that graphic design had to offer, but their whole process and view of design was flipped on its head thanks to that difficult decision. Their art would not be what it is today without the material they learned through Zoom classes from the other side of the country.
​
Now they have a degree in graphic design, living in Modesto, and planning on getting a job in the animation or book illustration industry. Being a part-time student, part-time cook and part-time parent to the naughtiest bunny in town is a hard gig, but someone has to do it…